A REMARKABLE GROWTH BY DHANANJAY DATAR
Masala King Dhananjay Datar has expanded his business in the Gulf, with Al Adil Group's 34 supermarkets in the UAE.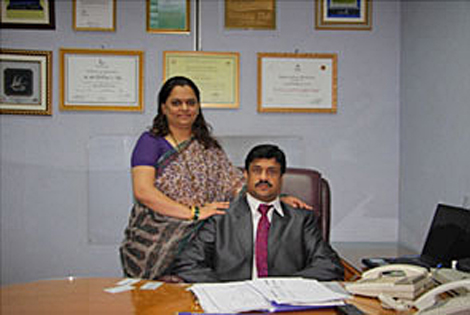 The years since 1984, when Al Adil Trading was established, saw Dubai getting onto the fast track of progress and development and the small grocery store kept pace with this rapid growth, evolving into a specialist supermarket chain with nine retail outlets; six in Dubai, two in Sharjah and one in Abu Dhabi, a manufacturing plant in the industrial area of Al Quoz in Dubai and an Indian export arm, Masala king Exports, doing business in the Indian sub-continent.
Today, Al Adil Trading sells the entire range of grocery and household items in the UAE including Indian spices and masala, pulses, rice and flour, oils and ghee, pickles and chutneys, tea and coffee, canned and instant foods, ayurvedic medicines and herbs, cosmetics, dry fruits, mouth fresheners and savouries, confectionery items and sweetmeats, etc. they have 8 shops in UAE – 21 in Dubai, 4 in Sharjah, 3 in Abu Dhabi and 1 in Ajman.
Its Al Quoz plant produces masala, spices, pickles, flours, pulses and other Indian foodstuff items under the Peacock brand name while Masala King Exports is one of the leading Indian exporters of quality branded Indian pulses, spices and other grocery items as well as non-food items.
Known for its hygienic packaging, stringent quality norms and competitive pricing, Al Adil Trading's range of products has won it a customer base that includes prestigious five-star hotels, reputed catering companies and some of the most recognized names in Dubai business firmament, such as Dubai Duty Free, Emirates In-flight Catering, Jumeirah Hospitality, Sheraton Group, Al Habtoor Group, Damac, Intercat Hospitality, etc.
Recognized as an ISO 9001:2000 Company in 2006, Al Adil Trading has won plaudits for its commitment to quality, including the prestigious Dubai Duty Free Best Supplier Award for Quality, Technology and Strategic Partnership in 2001, The Emirates Flight Catering Appreciation Award in 2003, and a Certificate of Appreciation from Jumeirah Hospitality the same year.
Today, Masala King Dhananjay Datar has expanded his business in the Gulf, with Al Adil Groups presence to 30 companies in U.A.E. This has happened at a time when the world was passing through recession and businesses were scaling down their sizes. He has employed an additional 100 Indians at his new stores, who are directly employed with him and has also created several indirect employment opportunities. Al Adil Group also has three factories and two exports – import firms besides the nine supermarkets.