RELIGIOUS RITUALS AT A HEIGHT OF 40,000 FEET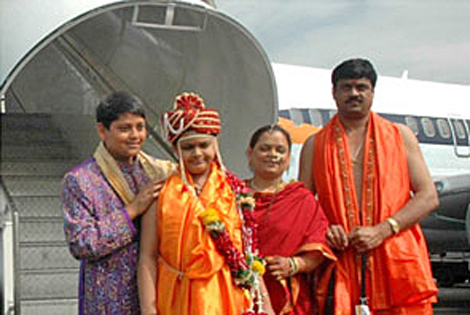 Thread ceremony of Datar's son conducted in the skies; a first of its kind event in a jet plane.ds
Thread Ceremony of Datar's younger son Rohit was held 40,000 ft. above Mumbai atop a jet flight. Vandana and Dhananjay Datar along with sons Hrishikesh and Rohit.
Dubai-based businessman, Dhananjay Datar organized a unique thread ceremony of his son, Rohit. The difference about this thread ceremony was that it was done in a jet aircraft, which hovered at a height of 40,000 ft. above Mumbai, carrying 150 family members and guests dressed in traditional Maharashtrian attire, most of who were aboard a flight for the first time in their lives. This was the first of its kind event in India.
On Sunday, December 21, 2008 at 10.00 a.m., the chartered flight took off from the domestic terminal at Chhatrapati Shivaji International Airport. As the aircraft flew above the city, 10 year old Rohit Datar received blessings from relatives. His father Dhananjay, who has been living in Dubai for the last 30 years, said the idea of conducting the ceremony aboard a plane stemmed from Rohit's love of flying. "Plus, I thought it would be great to take my friends and family on an aero plane ride, while they bless Rohit," said Dhananjay, who owns a chain of supermarket in Dubai. His wife Vandana and elder son, Hrishikesh, were also present at the ceremony.
The ceremony consisted of the traditional Ganesh Pooja, wearing the thread and reciting sacred mantras (mangalashtak). The havan was, however, performed at a 5 star hotel, Royal Palm Hotel at Goregaon, where they had booked 300 rooms and 20 villas for two days'.
"My father, Mahadeo wanted to perform my younger son Rohit's thread ceremony on a plane" Datar said unfortunately he died a fortnight ago. But we decided to go ahead with the plans as per his wish. My father wanted to spread our culture. Holding the ceremony in the skies is symbolic it'.
The priest, Vilas Parekar, from Dombivili said, Blessing from the sun is sought in a thread ceremony. We reached closer to the sun by performing it on the plane, in fact, the two priests, Vilas Parekar and Sanjay Joshi had never stepped aboard an aircraft.
Rohit, a class seven student of Dubai's Wellington International School, said he felt like a king.' I told all my friends abroad about this tradition, he said.
The Datar's have registered their names in Limca book of Records and the Guinness World Records. That's not all, 40 other guests were given helicopter rides in two chartered choppers, which took off from the Juhu airport, on 8 sorties, making it a truly memorable celebration in the skies. This event again caught the media attention as it has never been done before in India.
And after the flight landed on Sunday, a baraat ceremony was organized with elephant's et al – truly a royal event, in every aspect.